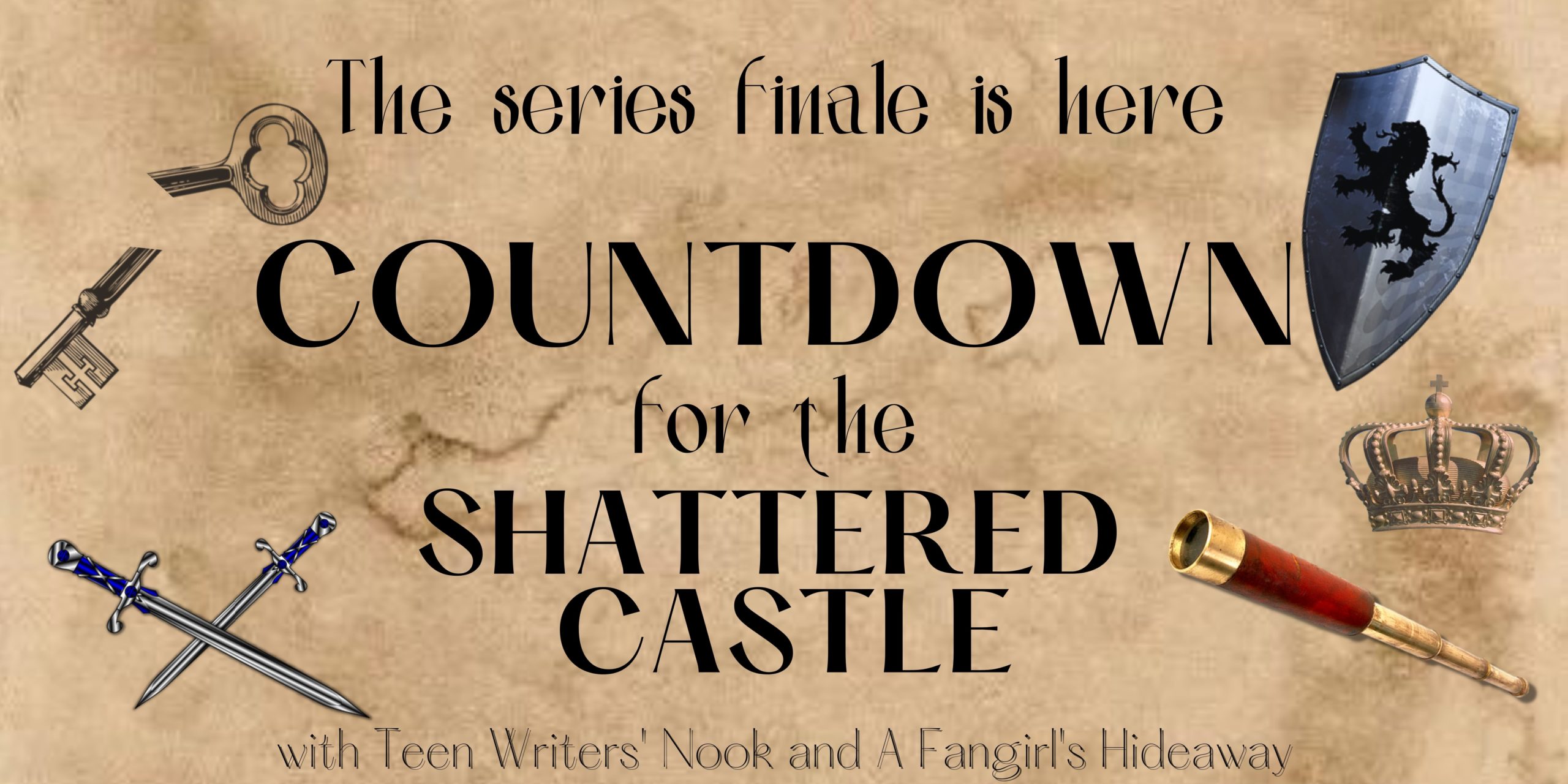 THE SHATTERED CASTLE IS RELEASED!!!!
I don't know about y'all but it's time to celebrate!!!! WOHOOO!!!!!! *jumps up and down and passes around cake, and cookies, and ice cream and chocolate and snacks*
THE SHATTERED CASTLE HAS OFFICIALLY RELEASE!!!! THE FINALE IS HERE and guys, I am sooo insanely excited to read this. (But that probably won't be till December, cuz of having to catch up on books I have that I've promised to read and review and NaNoWriMo coming up soon, so just to note, don't assume I'll be reading it within the next few weeks, cuz I probably (sadly *sniffs*) won't. So NO spoiling until you see my review post on TWN for the shattered castle. Then we may fangirl over it till our heart's content. 🙂 )
If you missed the entire countdown, you can check it out by using this handy dandy illuminated pink words (or in y'all's boring language, links)
Soooo if you missed it. Yesterday, I answered trivia questions that Alexa gave me (and was totally roasted, so I would definitely check that post out if you haven't). And today Alexa answered my trivia questions. So definitely make sure to check em out right here before continuing because I wanted to share the answers to the questions!!
*waits for you to read the post and then return*
*elevator music plays*
*sees you're back*
Okay, so here's the answers to the questions and we can see how many Alexa got right (and you if you chose to mentally take the trivia). I think Alexa did better than me, but in my defense, I didn't ask questions like what was the first thing Sage said to Imogen. yes, I will never let you live that one down, Alexa. XDD Nah, I'm just teasing you 😉 And I will not be saying what the question was, only the answer, so you kinda have to check out her post. (Ooo I'm so sneaky XD)
#1. Mavis Tock
#2. "Frankly, I hope Avenia destroys it."
#3. Blue and gold!
#4. Serena appears in The Runaway King and has a teensy appearance in The Shadow Throne. Really, it's so small, you might not even remember it, but she does appear there.
#5. Three pirate names listed in The Runaway King were Devlin, Agor, and then you could've said like Errick or Roden. (Yes, this was a purposefully trick question.)
#6. Mott
#7. April 1st, 2012
#8. Carchar and Tithio
#9. False
#10. Troger
Lemme know how many of these you got right in the comments below.
Now, if you are as desperate to get your hands on this book as I am, then head right over here to get it on Amazon, or here to get it on Barnes N Noble, or here to snag it on Walmart. 
While you're at it, check out the genius author behind the book Jennifer A. Nielsen's website!!!
As a random side note: did anyone else realize the slight similarity the opening paragraph to The Shattered Castle is to The Shadow Throne? (Check out the look inside feature on Amazon, to see what I'm talking about.) I thought that was really cool since The Shadow Throne was the first ending to the series before Jennifer Nielsen extended it. All I know is, if it's already starting to give me TST vibes from the opening paragraph, that's a REALLY epic sign!!!!! (As a lot of y'all know The Shadow Throne is hands-down my favorite book in the series!!!!!!)
So this past week through the countdown, we've had discussion posts, given our predictions, tried to figure out how to convince Mrs. Nielsen to write a backstory for Mott, quizzed our knowledge on the series, seen the best memes and graphics, probably spoiled the book for a few of y'all who haven't read it (sorry), and now we're here at the end. Before we go any further, lemme just go ahead and give another HUGEST thank you to Alexa from A Fangirl's Hideaway for helping me bring this coutndown back to life again. I'll admit, I really enjoyed this week countdown more than last year, cuz I got to chat with all y'all false prince fans and had a blast getting it all together with Alexa!!!!!!!! 
And then THANK YOU guys for sticking with us this past week and for sharing the love and excitement in this series. It's been a joy!!!!!!!! (Seriously, it's crazy. We've got like a false prince fangirl army building up over here. XD)
Soooo I wasn't really sure what to stick into this post, so here's a bunch of random stuff:
WOOHOOO!!!! I can't wait to get back into this world, but I probably need to read The Captive Kingdom before that, to refresh my memory. What about you? Are you going to read The Captive Kingdom first or jump straight into The Shattered Castle? What's your favorite quote from the series? Which one's your favorite cover? I want to know all about it in the comments below.
Alright, I'll leave ya with this awesome song to listen to as I jump out and let y'all eat your ice cream and celebrate The Shattered Castle's release!!!!!! (If you listen to it, trust me, you'll see why I had to include it. 😉 )
SPOILERS IN QUOTE. READ THE FALSE PRINCE BEFORE CONTINUING!!!
"Life has tested your resilience and strength and willpower, and you have succeeded in ways nobody ever thought possible. But the storm has never been worse, and it will either destroy you, or define you. When everything is taken from you, can you still stand before us as Jaron, the Ascendant King of Carthya?"
~Mott (from The Shadow Throne by Jennifer A. Nielsen)
Keep on being awesome and never stop writing,
~Issabelle Perry