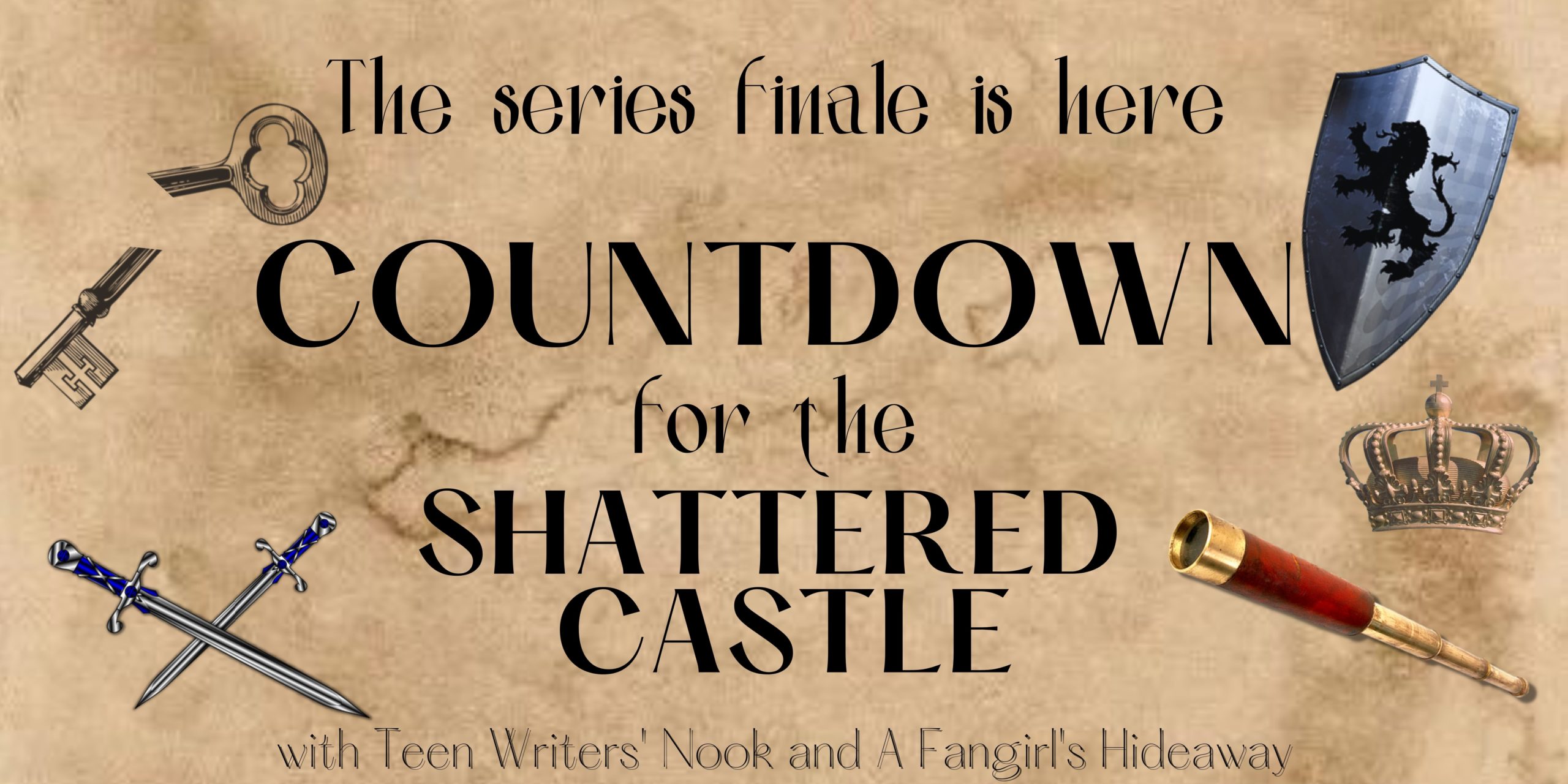 THE COUNTDOWN BEGINS: Seven Days Until THE SHATTERED CASTLE's Release
Oh, yeah, I'm bringing back da GIFs because THIS is an exciting occasion!!!! The countdown returns as we all celebrate the release of the conclusion to the most incredible fantasy series known to humanity: THE ASCENDANCE SERIES!!!!!!!!!!!!!!!!!!!!!!!!!!!!!!!!!!!!!!!!!!!!!!!!!!!!!!!!!!!!!!
Now, some of y'all may remember about a year ago, I did a countdown for The Captive Kingdom (book four in the ascendance series). Anyway, I actually didn't plan to do another one for The Shattered Castle's release. I figured, we'd all be kinda tired from September's stream of posts, plus some of y'all might not care the weird ones, of course XD BUT, then a TWNer came to me and asked if I was planning on it, and well, I kinda didn't wanna say no, so I said yes. And that's why we're here today.
But wait, there's more! I asked this TWNer if she'd be willing to do it with me, and she agreed and lemme tell ya, I think this is going to be the BEST COUNTDOWN EVER!!!!!!!!!!!!!!! I am actually SOOOO thrilled I'm doing this again this year, and y'all owe all of that to the amazing, incredible, probably most exciting person you'll ever meet in your life outside of me, that is. What? I've got a Sage moment going on XD…. ALEXA!!!!!!!!!!!!! *cheers fill the blogosphere* So, you guys HAVE to check out her fabulous blog right here, which is literally the perfect place for fangirls to hang!!! And I know we've got some fangirls over here. 
Now, intro aside, you might be wondering what is this countdown? Especially if you weren't here when I did it before, which let's face it, none of y'all were. That was loooooong before 99.99% of y'all showed up. So everyday until The Shattered Castle releases Alexa and me are going to be bringing you fun posts filled with trivia, memes, graphics, literally anything a fangirl (or boy… I know y'all are out there somewhere. XD) could want!!!!!!! We're going to try to keep our posts super short, so it's not a lot happening at once, but I hope y'all TFP fans will join us as we celebrate the conclusion to this wonderful, amazing series. I will also try to note before each post if it contains spoilers and which books you'll need to read first before continuing!!!!!!! 
Now for today's post I'm bringing you seven of some of the best TAS memes since it's SEVEN DAYS UNTIL RELEASE!!!!!!!!!!!!!!
THE FOLLOWING MEMES DON'T CONTAIN SPOILERS BUT THERE ARE SOME THAT DO WHICH I WILL NOTE BEFORE SHOWING!
Credit: Made by yours truly ;P
Credit: Made by Katherine
Credit: Image found on Pinterest – meme suggested by Alexa!
Okay, these next ones have spoilers, so make sure you have read THE FALSE PRINCE before continuing!!!!!!
 Credit: Imagine found on Pinterest – Meme picked out by Alexa
Credit: Image found on Pinterest
Credit: Image found on Pinterest

Credit: Image found on Pinterest – meme suggested by Alexa!
Fangirling time! Let's chat below
Alright, y'all, and that concludes today's post!!!! Can y'all believe it's a WEEK until The Shattered Castle releases? I most certainly can't. So what do y'all think: Do you think Mrs. Nielsen would ever consider releasing a sixth book or the series is done for good? From what I've heard, I think the series is done for good, but I do have my fingers crossed that one day she might come back to the world, even if not the characters. Which brings me to my next question: If she chose to write a series or novel set in the same world but with different characters what's your vote on what you'd love more than anything to have her do? I'd personally love to see a novel with Mott's backstory or maybe a villain origin story on Connor? I don't know, I'm debating that last one. What do y'all think? Ooo and did anyone notice the certain reference made in The Warrior's Curse by Jennifer Nielsen? I'm not going to say what, so if anyone knows what I'm talking about, drop it below and we'll see who gets it right!!! Oooo maybe I'll give a shout-out to all of those who got this final question right in Thursday's post!!!! Anyways I wanna chat all about it below!!!!
And don't forget to check out Alexa's post tomorrow!!! I believe it'll be filled with graphics, graphics, graphics!!!!!!!
Keep on being awesome and never stop writing!
~Issabelle Perry