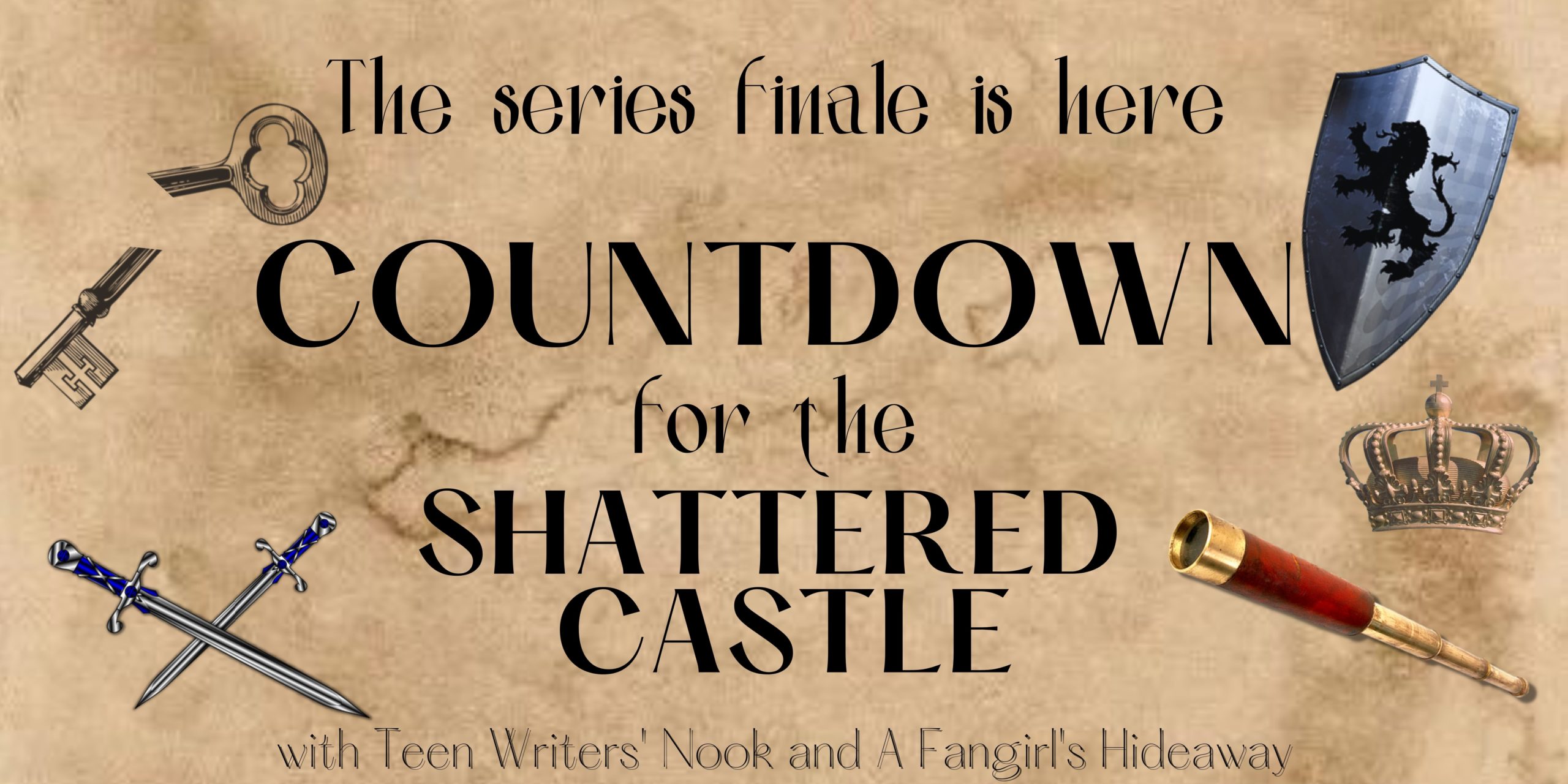 Five Days Until THE SHATTERED CASTLE Releases // Who Introduced YOU To The False Prince Discussion Post!
I let my arm holding the torch slack a little. "This is getting heavy, so I can't allow you much time to decide whether to live or die. How about I count back from five?"
And my countdown began. At five, nearly half of Mendenwal instantly dropped their weapons and fell to their knees. By three, the clanging of swords to the ground was audible. But at the final count, I still saw far too many defiant men, preferring to die on their feet than surrender to a boy king.
I respected that – truly I did – but I could not tolerate it. This battle had to end.
(quote taken from The Shadow Throne by Jennifer A. Nielsen)
Well, only five days now until the finale to this exciting, amazing series end! And must I say, the excitement is high in the fandom this week, and TWN in partnership with A Fangirl's Hideaway is bringing just a taste of that to all of you!!!!!!! If you missed the countdown's kick off post, then check it out here and don't forget to also check out Alexa's post filled with the very best TAS graphics right here!!!!
Now before we jump into today's post, I had left a couple of questions for y'all at the bottom of Tuesday's post, and let's see what the fan's responses were. *dims the lights and passes around popcorn buckets*
*Please read THE FALSE PRINCE before continuing or skip down to the post section*
(from Louise)
(from Lorelei)
Sooooo the answer to my final question that absolutely NONE of y'all got right (seriously? I have suddenly realized that I've spent SO much time fangirling over The False Prince I forgot to introduce y'all to Mrs. Nielsen's Traitor's Game series *hides*). Anyway, the epic reference in The Warrior's Curse was the mention of the Eranbole Sea. Now, if y'all remember this is the SAME sea we see on the map in The Ascendance Series WHICH MEANS KESTRA, SAGE, SIMON, AND IMOGEN ARE ALL IN THE SAME WORLD!!!!!!!!!!!!!! So to those who have read both series, lemme know down in the comments: Do you think The Traitor's Game comes before, after, or at the same time as The False Prince's setting?
Now for today's post, I'm going to be answering this question and then I want all of y'all to answer it down in the comments below. Today's question I'm answering is: Who introduced you to The False Prince?
So it was back in good ole March of 2019, when the world was calm and all was well. I was talking with this guy at my church and he was telling me and my sisters about this book he had read recently that was introduced to him by a friend of his. Little did I know this book would completely change my fandom life forever.
What was this book, you may ask?
Why, it was none other than Little Women.
*crickets chirping*
*everyone looking around in confusion wondering what this has to do with the false prince*
*a few of the brave ones ask Issabelle if she's okay*
*Issabelle responds by saying outside of being mentally insane and reading enough books to leave me emotionally unstable, I'm totally fine*
*the cricket's chirping gets louder*
*issabelle bursts into a loud round of laughter*
Alright, I'm kidding y'all. It was obviously The False Prince. Well, we went home and my mom looked it up. The only thing I remember her saying about it was that it once had a movie deal that was broken. No idea why that was important information or why that's the only thing I remember.
Anyway fast forward some weeks, and my mom checks out The Traitor's Game at our library to test this author out and see if she liked her. When she ended up LOVING The Traitor's Game, I knew I HAD to check out this false prince novel.
So we go back to the library, and there it is, in its shiny royal blue gold cover with a crown embellished on the front cover. Obviously, I instantly took that book home and devoured it in one night.
I wished. XD Actually, I had checked out some other books, and I wasn't sure if I'd like this false prince novel, so I remember reading Melanie Dickerson's The Fairest Beauty and The Captive Maiden first. my first and last time I put Melanie Dickerson before Jennifer Nielsen. Anyway, by the time I finally got to it, I read the book in like a week, and was in love!!!!! It wasn't long after I read the second and third books, and let's just say when Mrs. Nielsen announced she was extending this series back in December of 2019… aaahh, one of the best days of the year!!!!
this was a screenshot of the comment I had left on Mrs. Nielsen's site when she announced in December that she would be returning to this series You get a glimpse of what Young Is was like. XD
Alright, so you guys lemme know below who introduced YOU to The False Prince in the comments!!!!!!!!
And don't forget to read Alexa's response to this question on her post tomorrow!!!!
Until the next post,
Keep on being awesome and never stop writing!
~Issabelle Perry