Meet My MC – A Writers Linkup Hosted by Blogger Maya Joelle
Brief note: I sorta forgot to explain the details about that writing contest I mentioned I won in my last post. So, "Fairly Impish" will actually be published in a teen anthology that'll be available to purchase on Amazon sometime around March 3rd! (Don't ask me why I forgot to include that in my post. *faceplalm*) More details about that coming soon!!!! So stay tuned!!!!!!! Now onto the post!
Ooooh, I wonder what all of this means!!!!!! *staring in awe at the graphic*
IT'S ANOTHER CHANCE FOR ME TO RAMBLE WITHOUT END ABOUT MY NEW WIP!!!!!!!!!!!!!!!!
The details. Maya Joelle is hosting a link-up (kind of like the one I joined in that Christine Smith hosted) where bloggers answer her questions about our main character in our WIP. You can find the details if you'd like to join in here!!!!!!!! So, today I will be talking about the lead character in my new WIP, Heir to His Crown!!!!!! EEEEKKK!!! I can't wait! What y'all should probably know is Heir to His Crown is a medieval fantasy story and the lead character is Prince Keenum!!!
1 // Introduce your MC. What's their name? Age? Appearance? (Sharing collages/inspiration photos encouraged!)
My MC is Prince Keenum!!! He's the rightful king of Cedulnia, but the country was overthrown years ago and the book is basically him trying to take back the throne. I'm using a pretty simplistic trope of the prince reclaiming his throne but throwing in a bunch of extra stuff (like super complicated magic) to make it waaaaay more interesting! (I hope!) He's sixteen and we should all know by now I don't end up deciding what my character looks like until we're close to the final drafts soooo don't know about appearance yet. 
2 // Explain how your MC fits into the plot of your book (as best you can without spoiling it all…).
Well, he's the rightful king of Cedulnia. Eh, that's me trying to find an easy answer. XD Truth is, I'm still working out the plot. So far I've been basically full-blown pantsing this novel and am only about half-way through so my answers might be a bit lacking. Wait a minute, now I'm wondering if I even understood the question right. *scratching head confusingly* I don't know if I've ever told y'all but I always seem to misunderstand questions…soooo I don't know what I'm doing. I know! I'll distract everyone with a cute Baby Yoda GIF so no one will notice how I have no idea how to answer this question!!
3 // What's the first thing your MC says in the story? The last? A random quote from the middle that you like?
Oooh, this sounds like a SUPER FUN question!!!! Warning this is first draft material and anything I share from it will probably sound super cringey. *already cringing at the thought of it* But oh well, let's go for it and hope for the best!
First thing: "It's the same as all the other revolts." 
Last thing I have so far: "Cedulnia, as you can see I'm well alive and alright."… "For now it's time we-" 
Some random thing I found in the middle: "I'm in. This is my kingdom and I will fight the hardest for it."
4 // Which other character would die for your MC?
*sobs into tissues dramatically* *realizing everyone else has no idea why I'm so emotional over this question* *composes self and tries to acts cool* *fails miserably and goes back to being weird*
Okay, there's actually a LOT of characters who would die for Keenum. Hanne, Kylie, just about every loyal citizen of Cedulnia, but I'm gonna mainly go with Amadeo!! Keenum and Amadeo are almost basically like brothers.
5 // Would your MC die for them?
YESSS!!!!!!!!! Keenum is probably one of the most loyal characters I've ever written!!!! He would die for any of his friends and for the people of Cedulnia!!!!
6 // Have any major details about your MC changed since you first created them?
Yeah, Keenum obviously likes writing stories now. Didn't see that one coming! And he has a lot more scars from his past than I was expecting. Actually, he's just changed a lot from my first idea of him. And I love him even more now.
7 // What characters (from books/movies not by you) remind you of your MC? Why?
Aaah, and here I shall express my die-hard love of Lord of the Rings and the Hobbit. Sadly, at this time I can only speak from the movies 'cause I haven't read the books even though I REALLY WANNA sooooo badly. 😭 Okay, the whole idea came from LotR, specifically the plot around Aragorn. So really both Aragorn and Thorin remind me of Keenum!!! Though Keenum is really not anywhere close to being as cool as them!
8 // Share your MC's favorites!
[ color, food, type of clothing, place, type of music, season, smell, etc. ]
Oooh, now I realize how much more development Keenum needs 'cause I have literally no idea. Let me just think of some stuff. Well, his favorite place is the gardens at the palace. His favorite season is spring. His favorite pastime is writing in his journal.
9 // If your MC wasn't involved in your story, what would they be doing? (Basically: what's their dream life? Where do they want to live, what do they want to do?)
He'd travel around the world and write stories.


10 // Share a fun extra (another collage, a playlist, a scene from the story, a drawing, etc.).
Oooooh, let's do a lot of fun extras!!!! First, a graphic!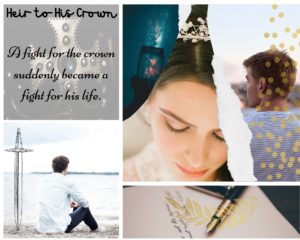 A scene. (Remember, if it's really awful, for this story my first draft is turning our sloppier than they normally are, so be prepared. Continue at your own risk!)
He was my enemy. My blood boiled. Now, more than ever, I wanted to grab the sword by his side and engage him myself. Make him wish he had never stepped on my country's soil. Make him regret supporting the invasion.
The one that killed my father.
The leader shoved me forward. As soon as I locked eyes with the noble, my heart dropped into the very pit of my stomach. Breath fled me. I could only stare dumbfounded at the noble, praying he wouldn't recognize me.
Don't recognize me. There was still hope to sneak passed unnoticed. I took an unsteady breath.
He stared at me harder like he didn't believe that I actually stood before him. Alive.
Don't recognize me. My hope was fading.
Don't.
Recognize.
Me.
"Do you know who this boy is?" The noble looked over my shoulder to the leader.
"An annoying pest," the leader muttered.
The noble glared at me like he was about to agree with the man. Under his breath, he asked me, "Why are you not at the palace?"
"I got bored."
Aaannnddd another extra!!! Here is a few songs that make me think about Keenum's character a lot!
And the song that has GREATLY inspired Keenum and his story!!!!! It's called "Truth Be Told" by Matthew West! You can listen to it here! Wow, this post has turned really long. Let's wrap it up in a SUPER AWESOME way!!! So last week I had this really awesome gal ask if I'd like for her to make some graphics for Into the Lamp. Well, of course I said yes and she did and they turned out AMAZING!! I wanted to share them here!!!!!!!! Soooo, first ABSOLUTE HUGE THANK YOU to Emily for making them for me!!!!!!!!!!!!!!!! You're THE BEST!!!!!!!!!! <33
I'll show you the one for Colin first!!
Isn't it sooo AMAZING!!!!!!!!!!!! Aaahh, it just makes me miss writing about Colin. :,(
And there was Genie's!!!!!!!!! I LOVE BOTH OF THEM SOOO MUCH!!!!!!!!! THANK YOU AGAIN SOO MUCH to Emily for making them!! They are THE GREATEST!!!!!!!!!!!!! I hope all of you like them as well!! Well, I say that's enough for this post! Sorry for how long it ended up, I wasn't meaning for that to happen. And I don't even feel like I said much about Keenum. 
LET'S CHAT IN THE COMMENTS!!!!!!! Sooo, in the comments below tell me Don't you just absolutely  LOVE the graphics for Genie and Colin? What do you think about Keenum? Would you like to hear more about Heir to His Crown. If you had to tell either Colin or Keenum about your most hidden secret, which one would you choose? Don't ask me why I like asking questions like that. Also, guys, if you haven't been to the homepage for TWN in the past twenty-four hours, you should REALLY check it out. Just saying. *shrugs* XD
Keep Writing!!