Author Interview with Kayti, Rissy, and Jaidie Phillips (Prince of Vengeance Blog Tour)
Hello and welcome back to the Nook!!! It's been a while since I last posted. (I mean, not super long, but since I had planned on a couple of posts this month that I never did, it feels like it's been a while. XD) ANYWAY, I am here today with an author interview of the three lovely ladies behind The Dragon Prince Chronicles series (aka Prince of Vengeance . . . as in, the reason for this blog tour😛). There are a lot of interesting things to learn about this series from this interview! (At least, I think there is. That was why I asked the questions, lol.) But before I move on, if you haven't heard of Prince of Vengeance yet, let me fix that for you. 
Prince of Vengeance is a young adult Christian fantasy/action/adventure novel and the sequel to Unfortunate Events.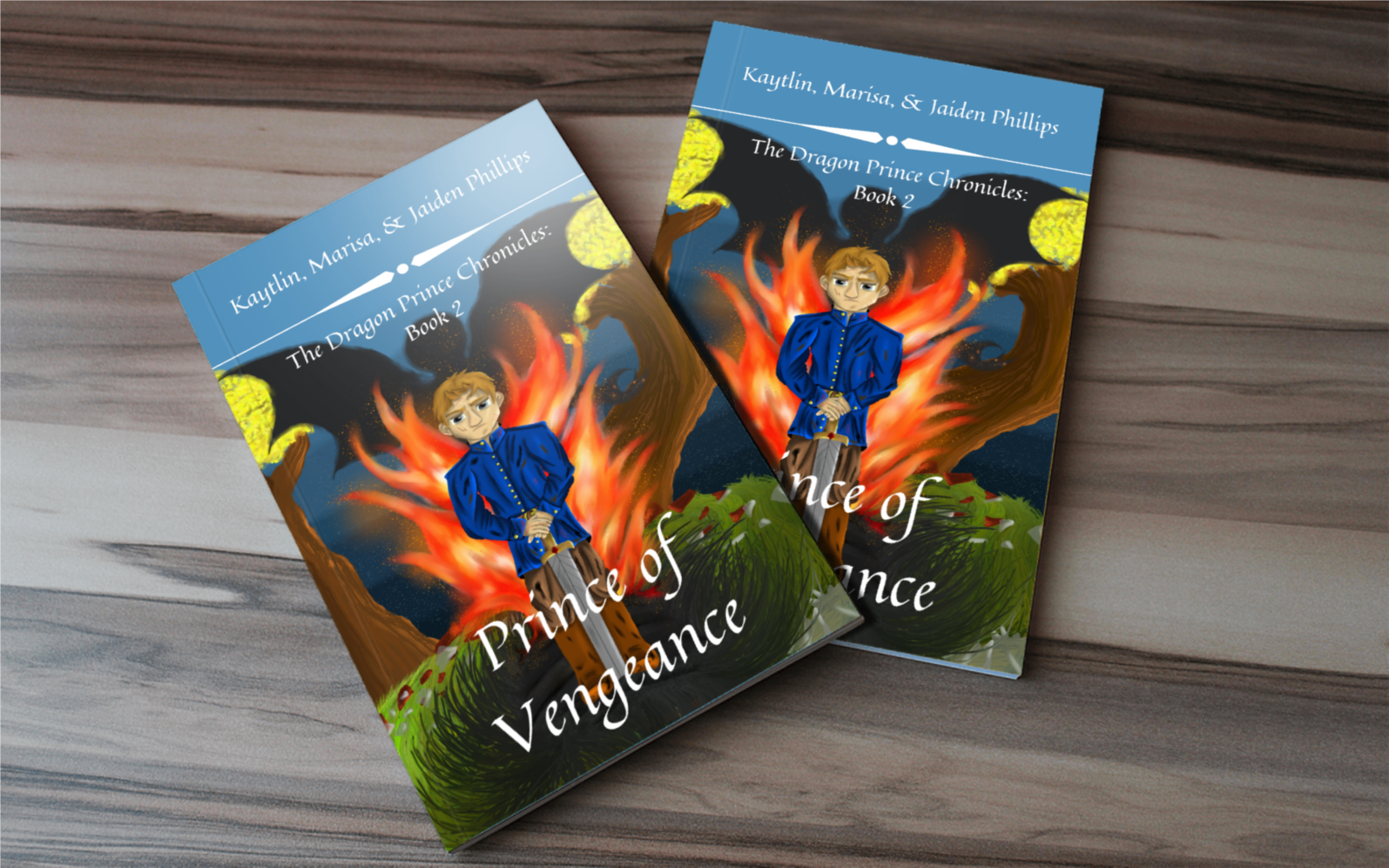 Prince of Vengeance blurb
Loyalties are shattered, hope dwindles, and vengeance stalks every step like a shadow of death.
As the leaves turn gold, Kahtan has settled into the idea of his life at Larkspur Manor. But storms are brewing on the horizon as the Shadowed One's dark presence spreads across the shattering land.
With no news of the precious heir, the army of Mazleah has lost all hope. When fire consumes the peaceful life Kahtan has settled into, it's up to him and his team to get Mazleah's only heir to the throne.
With traitors among them, danger around every turn, and the Dragon Prince seeking Prince Merickson's demise for his wicked vengeance, will Kahtan and his team be able to get Merickson to the capitol before the crushing darkness collapses upon them all? Or will the Dragon Prince seize the vengeance his twisted soul so desperately craves?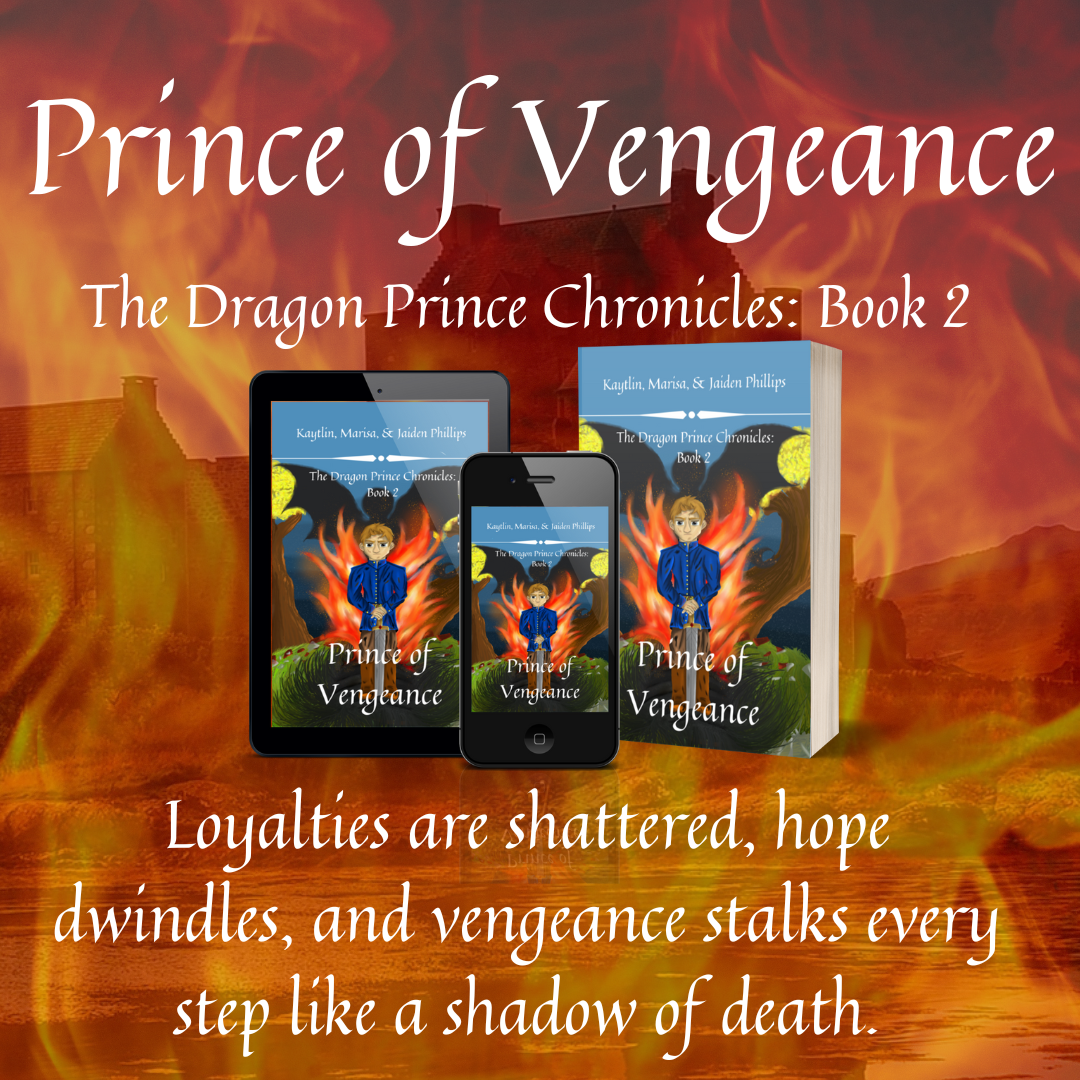 ****
Now that I have told you a bit about Prince of Vengeance, here is the author (or authors in this case) interview as promised. Note: my questions will be in bold, and the Sisters Three answers will be in normal text. 
Interview
Hello Kaytlin, Marisa, and Jaiden! Thank you so much for joining me for this interview today!
Hey Katherine, thank you so much for having us! We're so excited!
First question: where did the idea for The Dragon Prince Chronicles series first come from?
Well, initially we were waiting for our Dad to get home from work one summer day, he was running late and we had dinner all ready, and we got bored waiting, so Rissy said we should write something just for fun. She said the first sentence, minus the name, and we typed it out…and as the minutes dragged on the Prologue of Unfortunate Events was born. (That's why the dedication is to our Dad for being late to super.)
After that we kept the story going, switching to Kahtan and building the world of Mazleah…when the first book ended we kept going with the story and next thing we knew we had an idea for a series!
Wow, that's so cool! (Good thing your dad was late, haha.) So, how many books do you plan to write for this series?
We have settled on 4 books. Funny thing is we only recently came to this conclusion when we realized that the first book was set in the summer and ended at the turn of the season, and the second book is set in the fall and ends at the turn of the season, and the third book is in winter…and we plan to end it on the turn of the season continuing our pattern until we have a book set in each season. Which strangely enough, ended up lining up with the plots of the books rather well…lol…
How long did it take you to write Prince of Vengeance?
About 2 or 3 months, give or take a few. We went straight from drafting book 1 into drafting book 2 and it was such a fun adventure! We had a great summer of writing that year before we slowed down to our current snail like pace…lol…
For Kaytlin: I read in your bio that you enjoy crocheting. When did you first start crocheting and what drew you to try it?
What first drew me to try it was watching my older sister, Kayla, crochet she was really good at it and I loved how fast she was! But I never did get up the courage to ask her to teach me…lol…I don't know why, she's sweet, but anyway, I hate bothering people. So after watching her for years, I decided to try it myself when I was about 12 or 13…and once I figured the stitcout,ut it was pretty fun.
I'm no master, I just like making beanies mainly…lol…and a few scarves and 1 baby blanket that took years! And some easy rabbits that our friend, Abbigial Raine B. showed me how to make a few years back. 🙂
Aw, cool! I bet the rabbits are adorable! 😉
For Marisa: I read in your bio that you enjoy baking. What is your favorite thing to bake and why?
Hmm, I don't really have a favorite thing to bake. It kind of depends on my mood…lol…I do enjoy making Irish Shortbread Cookies! But honestly, I like to make what other people want so that it makes them happy! So if you ask me to make something, I'll probably enjoy baking it because I'll enjoy the thought of making you happy with the baked good, if that makes sense…haha….
Okay, I seriously want to try to make Irish shortbread cookies now!! XD
For Jaiden: I read in your bio that you enjoy drawing. What is your preferred art form/technique and are there other art forms/techniques that you have tried or would like to try?
I love cartoon/digital art with smooth colors. But I'm open to using just about any art type, color pencil, watercolor markers, line art, graphites, not charcoals because they are so messy…lol…
I love making up stuff to draw and creating things that are just mine and that don't look like anyone else's. It makes me happy to create something new and unique!
One type of art I'd like to learn is painting, but I haven't got around to getting supplies to try it out…lol…Not because I don't want to, but because the closest 'art' store is an hour away and we don't get down that way too often.
Amazing! And I know all your drawings are so beautiful!<3
Thank you so much for having us, Kat! We enjoyed it so much!
Aw, thank you three so much!!! This was a lot of fun!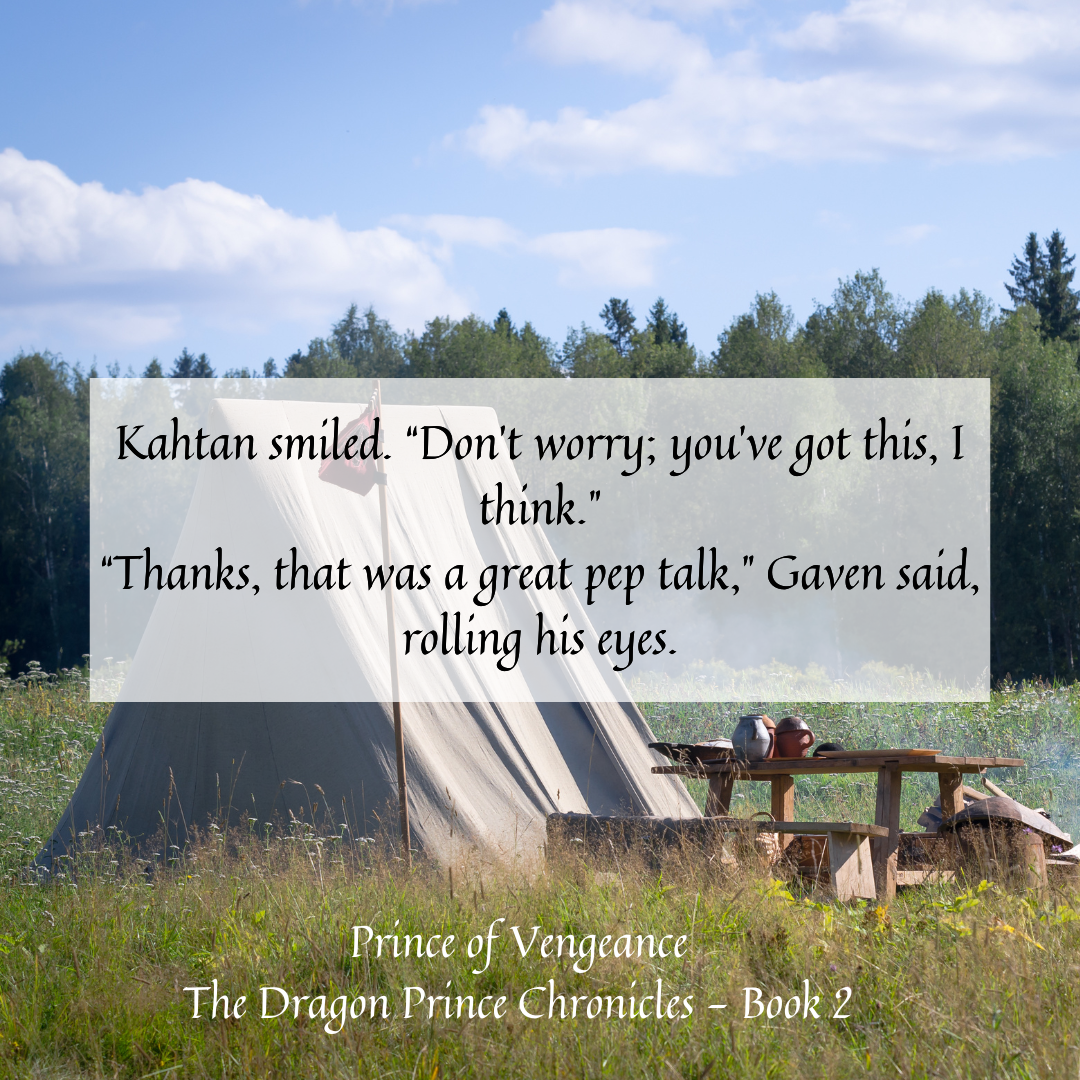 Want to connect with Sisters Three? Check out their group socials!
Blog: www.sisters-three.com
Goodreads: Sisters Three | Goodreads
Newsletter: https://dashboard.mailerlite.com/forms/93248/59816909004080388/share
Tour Schedule
Monday, July 24th
Sisters Three – Blog Tour Launch Announcement 
Vanessa Hall – Spotlight and Sneak Peek
Kristina Hall – Review, Spotlight, and Sneak Peek
Abbigail Befus – Spotlight and Sneak Peek
Tasha Van Kesteren – Spotlight and Sneak Peek
Two Friends One Pen – Author Interview, Review, and Sneak Peek
Tuesday, July 25th
Issabelle Perry –  Review
Madisyn Carlin – Spotlight
Kylie Beevers – Author Interview and Sneak Peek
Wednesday, July 26th
Lorelei Angelino – Review and Spotlight
Vanessa Hall – Review
The Introspective Introvert -Author Interview, Sneak Peek, and Spotlight
Joy Calle Martinez – Spotlight and Review
Katherine Barnard – Author Interview
Ellie Rice – Instagram Review
Thursday, July 27th
Saraina Whitney – Review, Character Interview, and Sneak Peek
Teen Writers' Nook – Author Interview – (You are here!)
Jaiden Phillips Art – Fanart Post
Friday, July 28th
Old Fashioned Book Love – Review and Spotlight
The Story Cubby – Review
Cozy Woodland Cottage Knits – Review
Sisters Three – End of Tour Post
****
Have you read Unfortunate Events? Do you like books with dragons? Do you like crochet, baking, or drawing? Have you read anything by these authors before? Let me know all your thoughts in the comments below!