Winter/Elsa Inspired Tassel Necklace with Matching Bracelet
(Before I go into the details of this craft project, I must admit that the necklace I made was not inspired by the winter season or Elsa from Frozen. In fact, I made the necklace last summer. 😆 But its appearance does make me think of winter and Elsa, so I just gave it that title.😛)
What You Need:
beads (new or from other pieces of jewelry; wherever you can find them!)
beading sting (aka stretchy string)
embroidery floss
cardboard (I used a 3-inch

width

piece of cardboard. The

length

of the cardboard doesn't matter because it doesn't affect the tassel. However, you don't want it to be so long that it is difficult to slide the tassel of the cardboard.)

scissors

jewelry clasp and jump rings (optional)

jewelry pliers (optional; necessary if using jump rings; flat nose pliers are ones I typically use)
***
A while back, I was given a bunch of jewelry that nobody wanted. (Like a hand-me-down-maybe-someone-else-can-make-good-use-of-it sort of thing.) The jewelry wasn't really my style, but the beads were pretty, so I kept them. One multi-strand necklace had some really nice blue beads (I'll show you the original necklace in the picture below). I decided to cut off some strands and use the beads for a tassel necklace that I wanted to make. I also added some small white beads to go with it.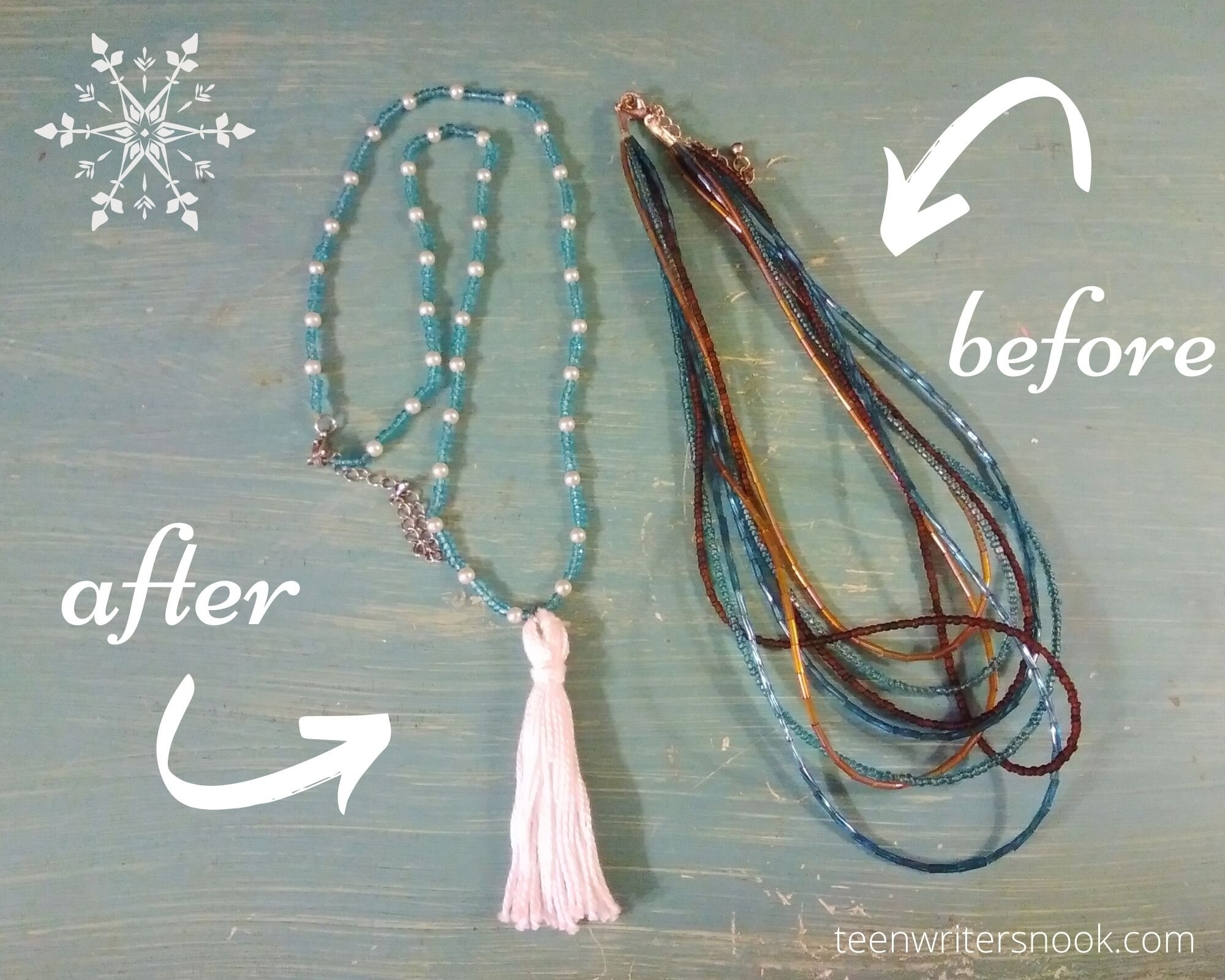 Directions for this project:
Step 1: Choose the beads you want to use and determine your pattern design. 
Step 2: Make the tassel. This is where the embroidery floss and piece of cardboard come in. If you need help making this tassel, here is the link to the YouTube tutorial that I followed.
Step 3: String half of your beads on the stretchy string, slide the tassel on the string, and then string the last half of your beads.
Step 4: Tie the end of the string to the jewelry clasp and jump ring. Use pliers to make an extension with the jump rings. (This is completely optional. My necklace ended up being long enough to fit over the head, so it didn't really need a chain extension. But I thought it looked nice anyways.)
Step 5: Make the matching bracelet, and voila, you're all good to go!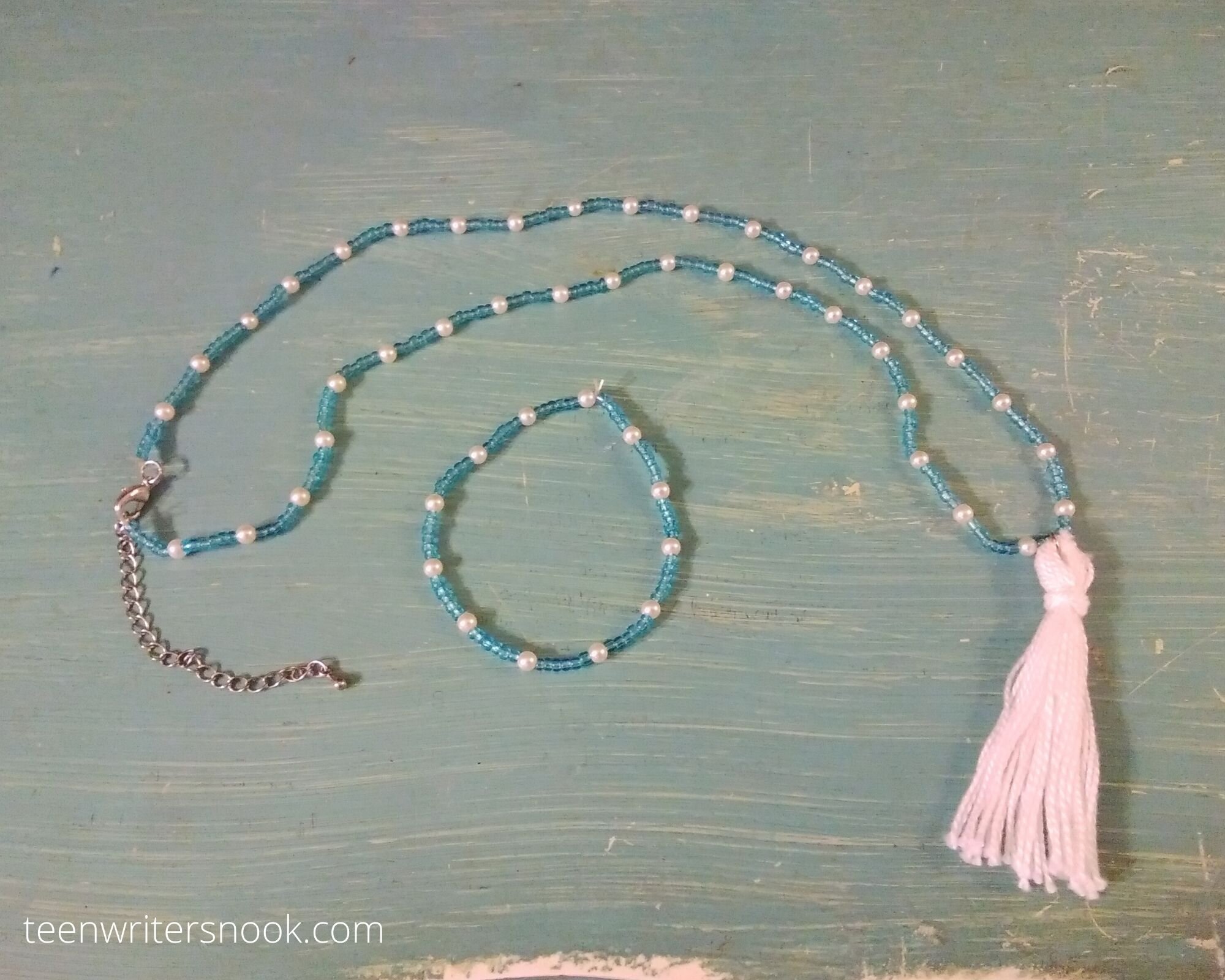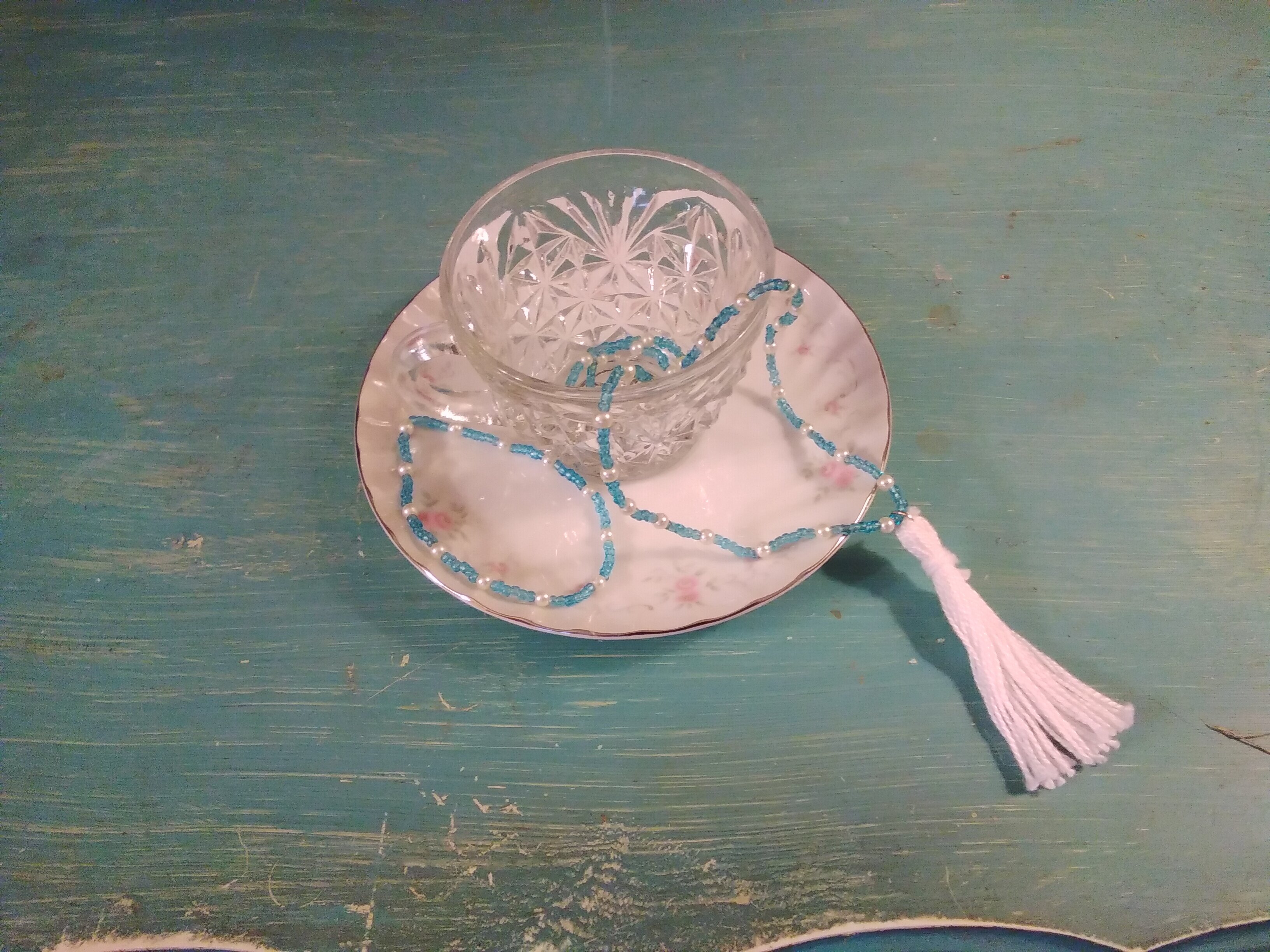 As always, if you have any questions concerning this craft project, please ask in the comments below! And what did you think? What craft projects would you like to see more of? Or would you like to see tutorials on crafting techniques? Also, do you like mermaids? Hehehe, there is definitely a reason why I am asking this question, but I will refrain from saying for right now. I can't wait to chat with you!!!