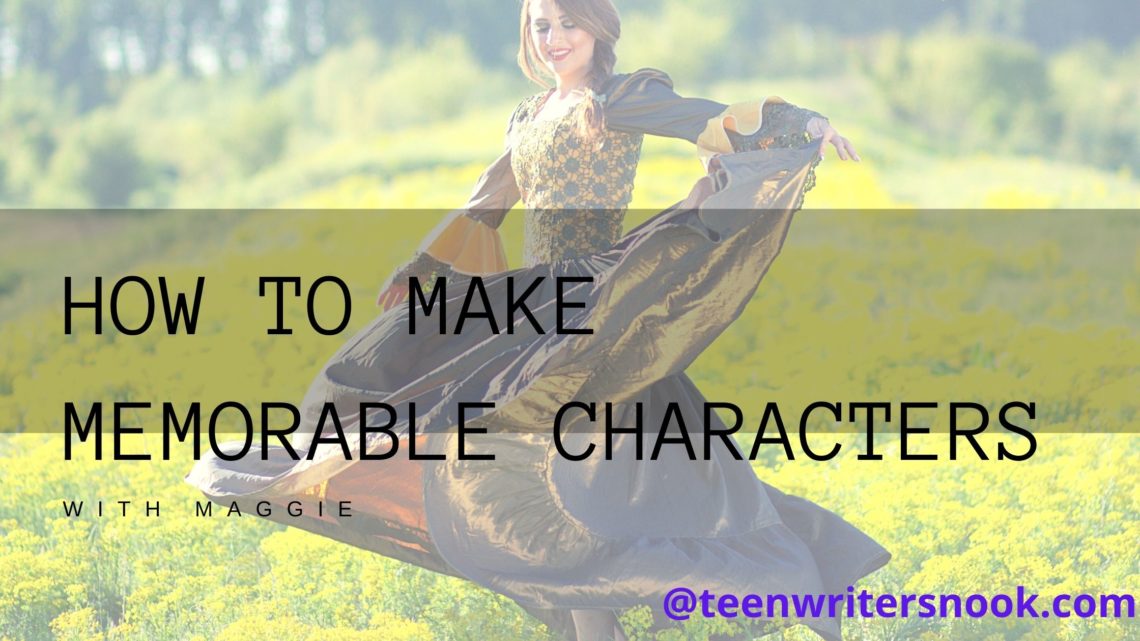 How to Make Memorable Characters Part 1 With Sneak Peek of My Current WIP
Happy Sunday, everyone!! I am starting a new writing series of posts. I'm thinking there will be about 7 parts to it. Today is Part 1: Introduction. And at the end of this post, I'm going to share a sneak peak of my current WIP (Work In Progress)! Let's dive into it.
Alright, the reason I'm doing this as a series is because there is a lot of aspects into making amazing, memorable characters. They don't just happen overnight. Your character should grow to you, the writer, throughout the entire writing process. As always, I want to add before we get in, that this is only advice, not everything we talk about will work for your story. It is just important to know and be grounded in the rules of writing, so that if you veer of the path, you will do it effectively and amazingly. I'll try to show variants to the different aspects I talk about, so we can see how other authors use these guidelines for their stories.
I think one of the fun things about creating characters is how creative you can be. Your main character can have so many traits and become unique, depending on how far you dig into knowing them. And though it is fun, it's also very important. This is what is going to determine if your book is great or not.
Wait, what? How does a character determine how good a book is? What about world building and plots?
Your character is what is going to carry the plot. You can have high-stakes, a unique world, and creativity like we've never seen, but if there isn't a character the reader cares about or connects to, then it will just be pushed away. The reader has to want to see the character make it to the end. If we don't care if he/she survives, then what's the point in reading. Would you read that story? Probably not. In the end, if you want a good book, have strong characters. If you want a great book, have that and all the other aspects in writing, like creative world building.
Because of how important this subject is, I was a little hesitant to tackle it, but I will try very hard to give you some writing knowledge to walk away with. I'm going to try to get a post in this series up every other week, but we won't be able to dive in too far until after my eight-day countdown for The Captive Kingdom by Jennifer A. Nielsen's release (which begins in a week and two days…I think). In case you missed my sneak peak for that, here it is below:
And don't forget about the cover reveal this Thursday!!!! I hope to see you there!!
Now, the moment we've been waiting for….A SNEAK PEEK at my WIP. Yesterday, I made it to the hundred page count in my first draft. I can't count it by words, because I write my first drafts out by hand. This is a big deal for me. Normally, if I make it to the hundredth page, it means I'm likely to keep working in it until it's finished. My WIP is a YA modern retelling of Aladdin, titled Into the Lamp. Here is an excerpt:
"My eyes shifted back to the lamp, the source of all my troubles. That dude had lost his mind if he really believed a genie was inside.
But…then again, it wouldn't hurt to try. I mean, if one was inside, he could really help improve the situation. I looked around the damp and dreary cave. My flashlight flickered on and off, trying with all its might to keep shining. It flashed on, then off. I waited. It never came back on. Yep, a genie would definitely improve my situation.
I grabbed that lamp and rose to my feet, wanting to be ready in case something did happen. Then, I brought my hand to the golden lamp, took a deep breath, closed my eyes, and rubbed it.
I peeked. Nothing. I knew it all along. A genie? Honestly? Had the world lost it's mind? Had I lost my mind? It had to be this cave messing with my thoughts that made me even…
Golden smoke started filling up the room, burning my eyes, stinging my nose with its strong stench. I coughed, trying to swat it away. Golden smoke? Now I was concerned for my sanity."
***Colin's the name of my main character. I realize now, it wasn't ever said.***
So, tell me what you think in the comments. I hope you enjoyed my sneak peek. And if you have any questions about today's writing topic, feel free to ask. Until then, Keep Writing!